Student placements are for individuals who are required by their college or university to complete a certain number of hours in their field of study in order to graduate.
---
Due to the number of student applicants, we are not always able to place everyone. However, we thank you for having interest in Mainstream.
---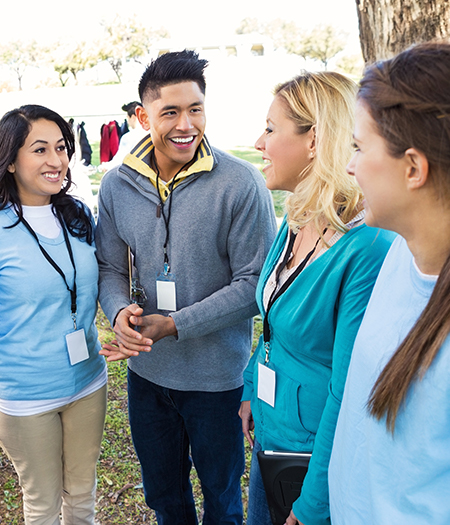 Welcoming Post-Secondary Students
Mainstream is committed to providing meaningful learning opportunities to students enrolled in various programs at the college or university level.
Thank you for your interest in doing a student placement at Mainstream. We value the opportunity to work with you in gaining skills in the field of your choice.
For several years Mainstream has welcomed students into the organization to complete their placements. We offer a variety of opportunities of where the student is able to learn about the field they have chosen. Mainstream believes in giving students the hands on experience they need to be successful in the community.
Mainstream has a close partnership with Brock University and Niagara College – giving opportunities to many of the students in their enrolled programs. Mainstream also welcomes students from other college and universities in Ontario.
In order for you to help decide on what placement is best for you, we encourage you to understand our programs and services on our website.
---
Student Placement Opportunities - Unpaid
We offer unpaid placements in the following areas at Mainstream:
Social Work
Social Service Worker
Counselling
Administrative
Educational Assistant – Special Needs Support
Fundraising / Event Management
Public Relations
Human Resource Management
Web Site / Computer Technology
Recreation Therapy
Recreation
Canada Summer Jobs Field Experience Summer Jobs
How To Apply:
Interested in a student placement with Mainstream?
Please contact your School Placement Coordinator to express interest in an opportunity above.
Canada Summer Jobs Initiative - Paid
Under the Canada Summer Jobs Initiative, Mainstream applies for funding for up to 5 full time summer jobs experiences.
These placements are a paid placement that occurs over the summer months.
Some examples of these jobs are:
Graffiti Job Coach
Recreational Planner
Community Integration Worker
Human Resource Support
Administration Support
In the month of February and March Mainstream seeks out potential students to be hired for these work experiences. Interviews are then conducted in early spring.
How To Apply:
1. Complete the Paid Summer Placement Application Form »
2. Attach a resume and cover letter, stating the position you are interested in.
---
Mainstream is committed to providing accommodations for people with disabilities. Should you require an accommodation, we will partner with candidates to meet your needs.
---
Questions about our services? Looking to get involved?
Contact Mainstream today. We are here to help.